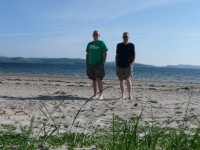 I call it a rest day when in actuality it was much more a washing and relaxing day. We're both in good nick and would have been fine for cycling. No doubt a day off of the saddles and plenty of nourishment will do us no harm.
We were both up pretty early. We usually rise at 7am on cycling days and take about 90 minutes to breakfast, wash and pack up all the stuff on to the bikes. We are usually on the road between 8.30 and 9.15.
It was before 8.30am that we were walking next door to Tralee Bay Park to use their laundry facilities. It really helps to have friends who know people! We bumped into Richard as he was just off sailing and mentioned we were thinking of cycling up to the Sealife Sanctuary later. He gave us a couple of complimentary tickets which was rather decent of him!
We spent the next hour watching clothes washing and lugged it back to Seaview to hang out on the fence next to the tents. A ready made washing line! The breeze and warm sunshine made short work of doing the drying.
We then pottered about, did some bike bits. Read books etc. Until lunchtime when we walked into Benderloch and had a bite to eat at the excellent caf