Most people know I play league table tennis. I've been playing the sport since I was about 8-years old. My father played in the Oxford league for many years and my siblings and I were all encouraged to play and we all played league table tennis at some point. I'm the only one still playing and I've played in the league since the mid 80s. Originally in the Oxford league for Kidlington Forum and since the early 90s I've played in the Didcot league without missing a season. I also played in the Newbury league for several seasons (most recently in Division 1).
As a player I would be classed as a "defender", i.e. I very rarely attack first in a rally and rely on blocking and chopping my opponents until I force them to make a mistake or lift the ball for me to smash. A match between two defenders can be a very long and tactical affair and might appear "boring" for a spectator but there's a lot of spin and counter-play involved! I'm often referred to as frustrating to play as I will often get everything my opponent can throw at me back, if you're an attacking player that can be quite annoying!
Just to explain some of the nomenclature you will see below. A fixture (or tie) of table tennis is played by two teams of three players, there are a total of ten matches per tie. Every player plays each other in singles, i.e. nine matches, and there is one match of doubles. Each match is the best of five games (or sets) to 11pts. In the Oxford league teams play for a share of 4pts depending upon the scoreline. In the Didcot league teams play for a share of 6pts per tie. Promotion and relegation in local league table tennis is not automatic but it is normally expected that the top two teams in each division will get promoted and the bottom two teams relegated. It is fairly unusual for players to play in more than one league, but not uncommon.
The sport is played in the winter between September and April, we're currently halfway through the 2013/14 season and we now take a break for a few weeks for Christmas. Below is a summary of how it's going so far.
Oxford League
This is my second season playing for the Viking Sports Club in Headington. After a long hiatus of not playing in the Oxford league I was asked to join by a colleague and ex-Didcot team mate. The clubs are rather spread out geographically and involve quite a bit of travelling to away matches, e.g. to Haddenham, Bicester and Begbroke. We are Vikings B this season and play in Division 2 of 4. We have four regular players so we rotate the squad, by the end of the season we will all have played roughly the same number of matches. Co-incidentally my father played for Vikings B in the late 60s and early 70s and the Viking Club is where I first remember playing as a child.
Last season we finished 3rd and I had a rather tough introduction midway through the season as Division 2 is a strong division. This season I have settled in much better and am currently meeting my personal goal of winning at least 50% of my matches. I've won 11 of 21 (52%) and not scored a duck yet which I'm very pleased with. I've scored one maximum (winning all three matches in a tie).
The team is top of the division at the midway stage, 7pts clear of 2nd but having played one more tie. Our greatest rivals are probably Forum D who are 8pts behind us but have three ties in hand. We have an excellent chance of finishing in the top two positions and getting promoted to Division 1. The playing standard jumps enormously between the divisions in local league table tennis so although it would be great to go up we will struggle to stay up!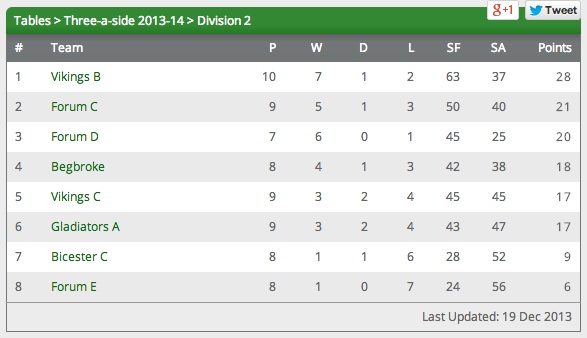 Didcot League
Didcot is my "first league", i.e. if I have fixture clashes Didcot matches always take precedence. After many years playing for Howbery Park in Crowmarsh Gifford, and being secretary for the club, we had to fold when we lost our playing premises and couldn't find an alternative. I played one season for Moreton but it didn't work out so when I was asked to join Upton Village Table Tennis Club before the start of last season I jumped at the chance. So this is my second season playing for Upton and I play for Upton A in Division 2 of 5. Last year we had four playing members and rotated the squad. I much prefer playing every tie in Didcot and I sometimes found it hard when I was "dropped" from the team. We finished 5th which was a highest ever league position for the Upton club. We had a rather dodgy home venue last season so it was kind of good news when we were forced to move to better premises this season due to the closure of our old venue. This season we have only three players so we have a regular team and we have built an excellent team spirit and I'm enjoying playing more than ever. I hope it's a threesome that we can keep together for many years.
Last season I finished with a 64% average (won 25 from 39) which was my best ever season and I set myself a personal goal of 66% for this season. That's not been going well as so far I've won 11 from 24 (46%) including one maximum but I have scored two ducks which I hate doing. I've been playing with more confidence recently and I should improve that average before the end of the season but I might have to revise my personal goal down a bit.
Despite my lowly average as a team we have been performing excellently and we had a brilliant start to the season. We currently lie in 2nd place and have played one fewer fixture than the teams in 1st and 3rd. It's an extremely tight division though, everyone is capable of beating everyone else and it's far too early to tell whether we'll hold onto a top two position. We have lost a couple of ties we shouldn't have so hopefully we can reverse them in the second half of the season. The team currently top will be very hard to overtake, they are clearly the strongest team in the division. We've all played more than 20 seasons in the Didcot league and none of us have ever played in Division 1, it would be great to get promoted on merit at least once even if we get hammered every week next season!