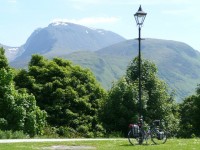 Phew what a scorcher. Boy have we been lucky with the weather? We've not had any appreciable rain since Devon. We had a little from Dumfries and bits of drizzle occasionally. The last few days have been unbelievable though. Today was very hot, no wind at all to notice and wall to wall sunshine. The tans are coming on nicely!
Mind you it made cycling pretty warm work at times, we were gulping through the Powerade at a rate of knots (the blue one is my fave BTW).
The first 25 miles to North Ballachulish were easy. The road was extremely quiet, smooth and pretty flat. We were setting a blistering pace. It offered great views across Loch Linhe too. We passed Castle Stalker which was used in the Monty Python film, The Holy Grail. We shared a few choice quotes and took some piccies.
We joined the A82 at North Ballachulish (can't believe I've hust typed that twice using the tiny onscreen keyboard) which was busier but not unbearably so. A few nutter coach drivers that got a shake of the head occasionally. Motorbikes are pretty poor too, they never slow down and never leave much room, they seem to enjoy buzzing you at 80mph. Even ex-motorcyclist Andrew was scathing of their antics at one point.
We weren't on it for long though and it's nowhere near anything like the A40 or A420 back home which I wouldn't cycle on.
By the time we got to Fort William we were averaging well over 13mph. We stopped at a bike shop to get Andrew's back wheel looked at. He was worried about a ticking noise and a slight buckle from the spoke repairs. The young guy in the shop spent an hour rebuilding the wheel and straightening it and then only charged