I think this will be the last post entitled "Observatory Build" as it is now built! I had three friends around at the weekend and we just about managed to get the roof on between us. I borrowed a hefty trolley from work which made getting down the side of the house and to the end of the garden doable. I think it would have been impossible without. The roof went around the corner easily, I had been very worried that it wouldn't make it.
So here it is with the roof on, guttering fitted etc. The previous owner had a water butt on the other side hence the truncated downpipe. I'm going to deck the area under the runoff in the spring and I will have a water butt too. I will also replace the vertical posts with longer ones and brace them more attractively.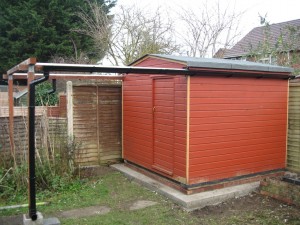 Since the weekend I've finished off the walls inside, temporarily set up the cupboards and started wiring up the electrics. I'm going to order the new telescope and mount soon so I can buy the right height pier and get that installed.