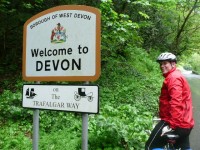 After the evening's children's entertainers at the holiday camp it was off to the tents to be kept awake most of the night by the light above the tent and the wind.
I was feeling rubbish in the morning and it was cold and windy. I packed rather haphazardly and we set off. After the few miles to Padstow the cobwebs were blown away though.
We followed the Camel Trail from Padstow through Wadebridge to Wenford Bridge which was very pretty and well surfaced. A few heavy showers didn't deter us. It was a little muddy in places due to the rain.
We stopped for some lunch at the Post Office in St Breward (highly recommended) before the fantastic scenery and minor roads over Bodmin Moor.
We kept to minor roads as much as possible to Launceston (pronounced Lans-Ton) apparently. After a minor navigation error into the industrial estate we found the way out of town and over the River Tamar and into Devon. That's Cornwall done and not the hilly nightmare we were warned about. We hope Devon isn't too bad!
We stopped for a cream tea in Lifton just as the heavens opened. A lucky break we thought until shortly after resuming they opened again.
The old A30 was busy with fast traffic and pretty miserable in the wet but we got to Bridestowe and climbed the rough track onto the Granite Way for a fab run into Okehampton.
The YHA guy then sent us into town and back out again up a really steep hill back past the Granite Way! We're camping at their out of town hostel which is nice and warm and I can charge everything up.
Neither of us are having any problems with the cycling yet. It's going ace!
Distance : 68.06 miles
Time cycling : 6h33m
Ascent : 2476 m (allegedly)
Average speed : 10.4 mph