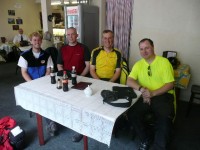 First up an apology to all of those eagerly anticipating another day of following our epic journey. Oops, I forgot to turn the live tracker on! It was pouring with rain when we set off OK?
What a fab fab day despite the weather's best attempts to drown us at various intervals. Not too impressed with the torrential (there cannot be enough emphasis on the word torrential) downpour just 10 minutes from camp.
Back to the beginning. The YH was stuffed full of end to enders (there were two others) and Sam chose to spend the day with us despite our slowness potential. He was heading to Cheddar. Great lad and great company. We had an ace day, cheers Sam. I hope my navigational skills were good enough!
After finding our way out of Okehampton, which wasn't that easy, after an initial climb it was downhill all the way nearly and we ate up the miles. It wasn't long before we were just a mile from Crediton when BANG one of Andrew's spokes snapped (did I forget to mention that he was the first faller yesterday when he forgot his bike is wider with panniers on?).
No worries, Crediton has a brill bike shop that put the kettle on for us while they fixed it. They also provided some useful route advice. Cheers Bike Shed.
We headed for Cullompton for lunch and just before we saw one of the Ice Trikes of Ben and Donald ahead. It was Ben on his lonesome and we found a caff for a chat and a bite to eat. I hope Ben found Donald again! The picture is Sam, Andrew, Me and Ben.
After some navigational twists and turns we eventually found the NCN 3 which followed little lanes into Taunton and then forgot to signpost us out again. Hmm, we negotiated the rush hour traffic instead and rang ahead to Huntstile Organic Farm for camping.
What an excellent location. We appeared like drowned rates but the coffee was on before we could hardly say hi. Great hosts have plied us with beer and conversation. Full English for brekkie tomorrow, that must be better than cold left over pizza like this morning? Not sure we'll be able to move afterwards though!
Where was Devon? That was easy peasy, what's next?! It would be nice, pretty please, for a drying day.
Distance : 72.96 miles
Time cycling : 6h28m
Ascent : 1677 m
Average speed : 11.3 mph