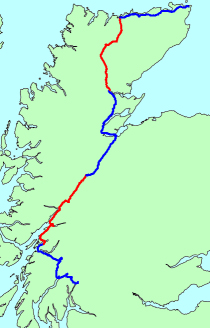 No joint training ride this week. John was in Portugal for a long weekend but Andrew did a 60-mile ride near Salisbury on his racing bike.
In other news, Tom has decided to step down from the challenge. He hasn't been able to do as much training and has felt it would be better if he didn't try the LEJOG at this time.
Here is the potential route for the final few days of the trip. After eleven days cycling we should be in the vicinity of Loch Lomond. We'll head westwards up Glen Croe to Rest and be thankful (I think we will be!) before descending alongside Loch Fynne to Inveraray. The A819 and A85 will take us through the Pass of Brander to Connel for an overnight stop near Loch Creran.
Day 13 starts alongside Loch Linnhe all the way to Fort William. We'll try and cycle as much of the Great Glen Cycle Route to Fort Augustus as possible. The route uses minor roads, forest tracks and the Caledonian Canal towpath to avoid the busy A82. We'll avoid the worst of the forest track sections though which will mean using the A82.
We're going to avoid the A82 alongside Loch Ness on Day 14 as it is busy with tourist traffic and not pleasant to cycle along. We'll climb on the B862 on the east bank of the loch down into Foyers and alongside the loch to Inverness. Using the NCN 1 to get us across the Moray Firth we'll use minor roads alongside Beauly Firth to get to Muir of Ord. From here we turn north through Dingwall before using minor and B-raods past Alness and a planned stop at Bonar Bridge.
From Bonar Bridge the route is north past Lairg into the wilderness of central northern Scotland. At Altnaharra we can either continue north to Tongue or take the slightly shorter route via the B873 to Bettyhill. Quite a short day this, it will probably be the shortest cycling day. The final day is also quite short and will use the NCN 1 route to Thurso and John o' Groats. This route uses mostly minor roads and avoids the A836 as much as possible. We'll probably have time for a diversion to Dunnet Head (the most northerly point in mainland Britain). After celebrating the finish I'm sure we'll head out to the lighthouse at Duncansby Head to complete the trip from SW to NE.
We'll probably camp at John o' Groats before the short journey to Wick to arrange travel back home.
So, that's the plan, I'm sure we'll modify it as we go but we think it's a good idea to have a general route in mind before we set off. It'll be interesting to see how close we stick to it!