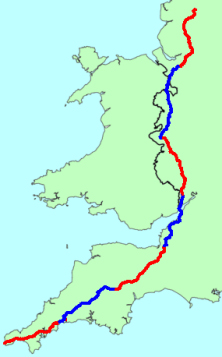 John has been putting some time into working out the route. The rough itinerary can be seen on The Plan and this will change as he works out exactly where we should be ending up each evening.
This is a map of the first seven days probable route. Day one starts in Land's End (dur) and is borrowed extensively from a route used by some Cornish men who did the LEJOG a few years ago, utilising their local knowledge to avoid the worst hills (allegedly). It heads via Penzance and south of Truro over the King Harry ferry across the River Fal. Using minor roads nearly all the way we should end up in St Austell or Lostwithiel.
Day two also uses the route used by the aforementioned Cornish men and looks like it could be a highlight day. It heads to Okehampton using an old railway line at times skirting around the north of Dartmoor. The planned stop is somewhere near Cheriton Bishop.
The third day is John's own route. This might get tweaked. Again mostly minor roads via Crediton, Cullompton and Wellington. It slips past the northern outskirts of Taunton to end up near Bridgwater or Burnham-on-Sea.
This should set us up nicely for the assault on the Bristol area and the Severn Estuary. This is mostly the CTC YHA route from Street and heads parallel to the M5 to Avonmouth. Using the M5 bridge to cross the River Avon (there is a cycle path!). We have a second motorway bridge, the old Severn Bridge on the M48 to get to Chepstow. Probable route is then via Tintern Abbey to end up close to Monmouth or the Forest of Dean.
The Wye Valley is one of the highlights of a LEJOG and that will be our fifth day. Heading to Symonds Yat and Ross-on-Wye we follow the river past Hereford and then the River Lugg to Leominster. Our stop will be close to Clun.
The sixth day will be the longest so far, nearly 80 miles. We need to get in a position to get between Manchester and Liverpool in one day with the tricky navigation and busier roads. From Clun the route is nearly due north all the way past Shrewsbury, Ellesmere, Wrexham and Chester. We'll aim to camp near the Delamere Forest close to Northwich.
The bit through the northwest is usually one of the lowlights of a LEJOG and most people just get it done as quickly as possible. Our route leaves us plenty of time to get through but it's hard to avoid main roads and towns. Avoiding Warrington it goes via Lymm, Leigh, near Bolton and through Chorley. It squeezes between Preston and Blackburn before finishing at Clitheroe. Could be a tough day, 68 miles and a nightmare for navigation.
So that's the first seven days sussed (maybe). Now, how do we get past Glasgow in one go?
Reproduced from Ordnance Survey map data by permission of the Ordnance Survey