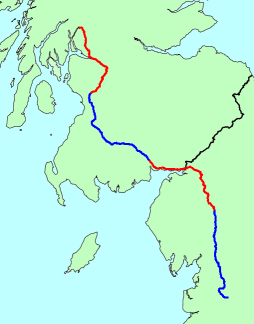 Due to Mothering Sunday and other commitments there was no formal training ride this weekend. Just commuting miles in the interim to keep the fitness going.
Here, however, is the next batch of route information. After day seven we should be staying somewhere around Clitheroe where we leave for day eight through the Forest of Bowland and over Catlow Fell to Kirkby Lonsdale. Heading almost due north all day we follow the River Lune valley through the spectacular gap at Tebay. John will stop to admire the geology which he mapped and drew for his first degree. Over the fells and down into the Eden Valley for a planned stop near Temple Sowerby a few miles from Penrith.
Day nine should see us following the Eden valley northwards to the west of Carlisle before we turn east to Gretna. Crossing into Scotland we'll follow the Solway Firth to Annan and Dumfries. This will be one of the flattest days on the whole trip with no major climbs.
The next day has given John the most difficulty. There are several routes for getting through central Scotland on a LEJOG. You can follow the M74 on the old road and go between Glasgow and Edinburgh and head towards Stirling. The A76 route is sometimes done but this is an unpleasant and dangerous road. Many LEJOGgers head across to Arran from Ardrossan and on to the Mull of Kintyre. The route John has chosen uses advice from the CTC forums about suitable cycling roads. From Dumfries the route will be B729, A702, B729, A713, B730, B751. This takes us west of Ayr and east of Kilmarnock on quieter roads, there's little potential for using minor roads in this area. But the roads follow the valleys so hopefully it shouldn't be too hilly. We'll aim to camp somewhere near Kilmaurs.
The eleventh day aims to go through Glasgow. The old A77 alongside the new M77 is apparently almost deserted now so we'll use that to get into Glasgow. We'll pick up the NCN routes from here. NCN 7 crosses the Clyde via Bell's Bridge and then follows an old railway route to Dumbarton. From here it goes alongside the River Leven northwards to Balloch. From here we'll pick up the NCN 40 path alongside the west bank of Loch Lomond all the way to Arrochar and an overnight stop. This should be an interesting day of contrasts. Navigating through the centre of Glasgow followed by riverside and lochside offroad routes. Has the potential to be the highlight day of the trip.
Reproduced from Ordnance Survey map data by permission of the Ordnance Survey