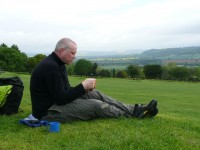 Still exactly on schedule. Pretty mean planning I reckon.
Longest daily ride so far but also the least hilly. It was also the hardest first 20 miles for me. I was cold and tired and had doubts about making the distance. Weather today was steadfastly cloudy and pretty chilly. Wind is still with us. Occasional light showers which were barely enough to wet the road.
The picture shows the way ahead. Beyond Andrew eating his gravel the Corve Valley curves to the northeast.
The valley road on the east side offers good fast flat cycling. We joined the B-road at Shipton and this is where I started to feel very tired. Andrew was fine though.
We stopped for chocolate at the quaint village store at Brockton and on to Much Wenlock for a proper break. An expensive and empty caf