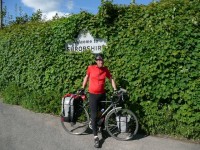 Hello blog peeps. Third of the journey done already. It really seems quite surreal that we are now in Shropshire when just a few days ago we were on a beach in Cornwall!
BTW contrary to what some people may think we have actually camped every night. Even at the YHA in Okehampton we pitched the tents in the rain and slept in them in the rain. We did use the nice warm lounge to eat and relax in though

So today. Three different counties in a day. Gloucestershire, Herefordshire and Shropshire. Not bad, not bad at all. Well Herefordshire was a bit grot!
We started the day, dear reader, climbing through the Forest of Dean to Coleford. Pretty scenery along the way, we saw several JOGLErs along here. Beyond Coleford we descended to Ross and a teabreak at the Pots and Pieces teashop and gallery. We had a lovely chat with the owners who kindly put some money into the sponsorship kitty. We had just missed a downpour as well luckily.
After Ross we had a very undulating minor road right next to the Wye at times. Pretty but tough. We got diverted at Brockhampton onto the B4224 due to a closed road. Probably just as well.
We skirted east of Hereford and were in a lunchbreak hunt. We did not pass a single shop or eatery until Bodenham. Even then it was just a very odd Post Office and a garage. Do people not eat around here?
We bought some bits and bobs and ate them sitting on a stile up the road. We quickly got to Leominster and out again (probably for the best) and made it onto the B4361.
Let's hear it for the B4361. What an ace cycling road. Quiet, smooth, a little undulating but fun and great views! Ludlow was the target for this day and we got there, a crazy steep ascent to the campsite but worth it for the fantastic views.
We walked down into the very pretty town and ate at the Thai recommended by the Pots and Pieces guys way back in Ross!
A good day, weather was excellent. Cycling was good. Neither of us have any major physical issues so far. I have a bit of a sore neck and Andrew has sunburn.
PS I photographed 3 cut marks and a rivet today. Benchmarktastic!
Distance : 62.72 miles
Time cycling : 6h04m
Ascent : 2243 m (it felt like it)
Average speed : 10.3 mph (result)