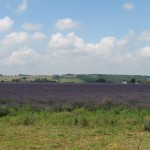 Great ride with CTC Wantage today. The Cotswolds (if you don't know) are an area of outstanding natural beauty which straddles Oxfordshire and Gloucestershire. The landscape is rolling and peppered with picturesque villages with houses built from the golden oolitic limestone which the hills are made from. Oxfordshire is not well known as being a hilly county but the Cotswolds offer some tough climbs, especially on the escarpment side. Even on the dip slope side you will rarely find a road that isn't going up or down, sometimes steeply.
We started in Burford, one of the larger towns in the Cotswolds and a popular tourist destination. Its iconic feature is the steep high street leading down to the River Windrush. It also has a large free car park. We followed the river to Bourton-on-the-Water, which is hugely popular with day trippers and tourists. On a sunny summer weekend afternoon it can be heaving with visitors. It is very picturesque but pick a quiet day to visit.
The rolling terrain led us past the Snowshill lavender fields to Broadway Tower which stands over 300m above sea level, the second highest point in the Cotswolds. The tower itself is a folly tower built so that Lady Coventry could answer the question whether she could see it from her house in Worcester! She could.
From the tower we took more rolling and quiet lanes to Bibury, another village popular with tourists, before heading back to Burford.
We were just shy of 100km for the day and over 1100m of ascent. I found it quite tough today as I hadn't got my climbing legs with me but had a 2nd wind at around 55miles and could have kept going for a bit longer. It's another ride towards my target of E50!
If you've not cycled the Cotswolds before it's well worth doing. The route we chose offers a good tour of some busy and quiet villages sticking to minor roads. A good sample of what the Cotswolds offer without tackling any of the really tough climbs.