With the start of 2014, it's time to look back on the previous year's cycling. I've been keeping accurate records since September 2008.
Last year was my best ever in terms of distance with 4,516 miles cycled (7,267km). Easily beating my previous record of 3,432 miles in 2011. Despite a poor spring (especially March) we had an excellent summer and I beat my previous mileage records in Apr, Jun, Aug, Sep, Oct and Nov. The graph below shows the cumulative mileage for the last five complete years.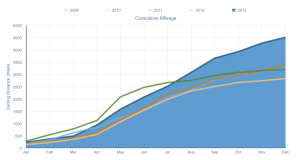 In 2009 I cycled from Land's End to John O'Groats and you can see that in the abrupt rise in May of that year. However, a consistent mileage through the late spring and summer in 2013 saw me overtake that line in July. Monthly mileage fell in the autumn with fewer opportunities to get out cycling, but I was pleased to beat my previous best November and had my second best December. I also completed my personal goal of completing at least one 100km or longer audax each calendar month in 2013 although I'm still waiting for my December one to be validated.
A heat map of my UK cycling shows where I cycled in 2013.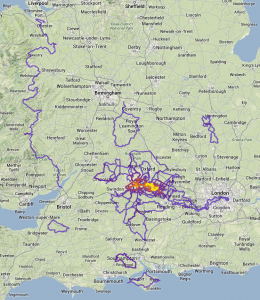 Yellows show where I cycled repeatedly. Dull purple is where I only cycled once. Clearly the 'hottest' part of the map centers around my commute from home to work in South Oxfordshire. The heat bump to the west of this is club rides with CTC Wantage which usually start from Grove. You can see some away rides, e.g. a 160km audax in the Midlands and rides in the New Forest, Isle of Wight and Mendips. The cluster towards Cambridge was during the family summer holiday. The other obvious route was May's cycle tour with my brother-in-law along the Welsh Border from Chester to Chepstow.
In addition to the UK miles, I joined the CTC Wantage club trip to Uzes in France. Here we did several rides out from the town. We also did an away day to climb Mont Ventoux.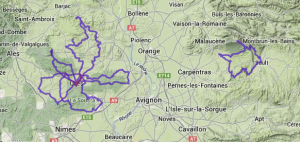 In numbers my stats for 2013 were as follows.
[table id=1 /]
It's going to be a tough mileage record to beat especially if we have bad weather in the spring and summer when most of the cycling gets done!