Big day today as Matthew and I spent all day erecting the observatory ready for the roof to be lifted on. First job was fitting the new fence panels, they're not especially heavy but cumbersome to handle so it took three of us to slot them in. It was then all hands to the pump to manoeuvre the base into position.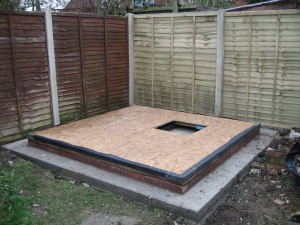 The base is very heavy so it was more of a drag than a lift and a gentle drop (after a less gentle drop!) into position. I decided to line the walls with insulation, I was in two minds whether to do this or not but in the end thought I might as well. This took a couple of hours of cutting and banging to get into place before we could screw the first two walls together.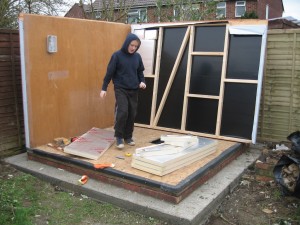 We made a slight faux pas putting the last wall into place as we managed to lock ourselves into the building! We had to remove the wall to retrieve the keys! Doh! We put the beams into position for the track which carries the roof. A temporary fix for the verticals on a pile of blocks, I will build proper plinths for these in due course.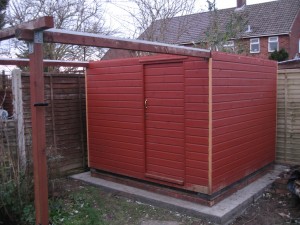 The last job was to cover everything with a tarpaulin until next week when I hope to have several helpers available to get the roof on. I'm slightly nervous about getting it around the corner down the side of the house. It would be ideal to get it on in one piece. Breaking it into two pieces would be difficult and it might never be the same again. It's starting to take shape now!